Join the 10X$10 Challenge!
Right now, God is planting his grace into the hearts of Mongolian school-children and using them powerfully to transform families with His love. He is utilising one of our programmes – a curriculum being taught currently by six Genesis Asian Outreach Mongolia (GAOM) staff members to over a thousand children in Ulaanbaatar state schools. "LifeSkills Values Education Programme"- it doesn't sound super spiritual on the surface, but its potential for impact on a national scale is huge!
If we're to take this programme to the next level, we need Kiwis to help. We're seeking 10 people who will commit to giving $10 each week. Will you be one of them?
Out of the LifeSkills programme we're hearing stories of reconciliation and forgiveness between sons and fathers as kids forgive their dads for mistreating their mothers. They're testifying of how their parents' involvement in the programme has led to the atmosphere in their family homes shifting for the better.
Teachers are also observing massive positive behavioural changes in their classrooms as these kids finally get the chance to hear and internalise the very same values taught by Jesus. And this is not just teaching values for the sake of being "nice". The kids on this programme are invited to attend "Vacation Bible School", which is run by the AO team with help from Sunday school teachers in local churches. Here it goes deeper as children learn about the one true God, creation, sin and salvation.
This year 200 LifeSkills students were invited to the camp, and many accepted Jesus as their saviour for the first time and have decided to become his disciples. How cool is that?! God is using children to transform families and a nation!
With the history of our NZ culture, we take Christian values for granted.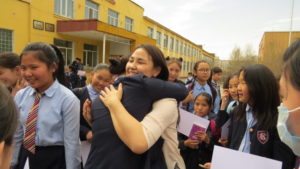 consider Mongolia – 65 years under communist rule with only a handful of Christians in the entire land. With the fall of communism, the regulations and boundaries fell too. A period ensued where it was every man for himself. Fast-forward to now and a new balance and national identity is being found. The Mongolian Ministry of Education recognises the value in this programme. In fact, they've asked for more GAOM teachers to be sent into state schools! Genesis Asian Outreach Mongolia wants to answer the call but needs more funds to expand the programme.
Could Kiwis make it possible to double the number of children next year who are taught these values? Let's be part of transforming the nation of Mongolia!
If you would like to be a nation changer, please set up a weekly auto-payment of $10 to bank account 01-0434-0091261-02 (reference "10×10 LifeSkills"). And if you're able to invest more then please do! Or make a donation using the Paypal button below: