Getting Stuck in –
a Cambodian Mission Trip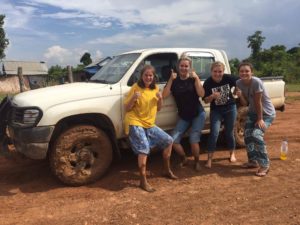 A team from the Frontline discipleship course (run out of The Village Church in Horsham Downs), recently spent a few weeks on a short term mission trip to Cambodia. It was great for our kiwi staff managing the base in Stung Treng to have a bunch of friendly faces turn up to help! With lots of energy to get stuck in practically, the team made a real impact and of course were impacted themselves too. Here's a brief report from team member, Zoe Finlay, on her experience.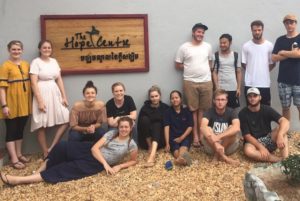 As a Frontline team, finishing our 6 months of discipleship in Cambodia with AOC was an experience none of us will ever forget. We were privileged enough to spend two weeks in Stung Treng and were the first team to stay in The Hope Centre's accommodation. Frontline was involved in a variety of things while visiting Stung Treng. The four boys in our team spent almost all of their time building a much needed cow shed on the farm and putting up fence posts at the AOC base. Meanwhile the five girls helped with cleaning in The Hope Centre, taught English classes twice a day, helped the staff at a children's club and even did a bit of building and gardening.
It was a huge blessing for us to be able to come into AOC at a time when they needed the help and we could be of use. We really enjoyed serving in Cambodia and came away from the trip having thoroughly enjoyed ourselves. Over the two weeks we visited we were able to build great relationships with the staff at AOC – even though some hardly spoke any English! The way the centre works there is a real testament to Jared and Emily (the kiwi couple managing the Asian Outreach operation in Stung Treng). We were amazed at the love flowing through that place and could really see God's work in the people and at the centre.
By Zoe Finlay